Topics
Self-locking doors for convenience and security
How do external doors in apartment blocks, or entrance doors to schools, businesses and offices close as soon as we have gone through them? It's not something we usually think about. It's what door closers are there for - and they do their job so reliably that they can save lives in the event of a fire.
What are door closers for?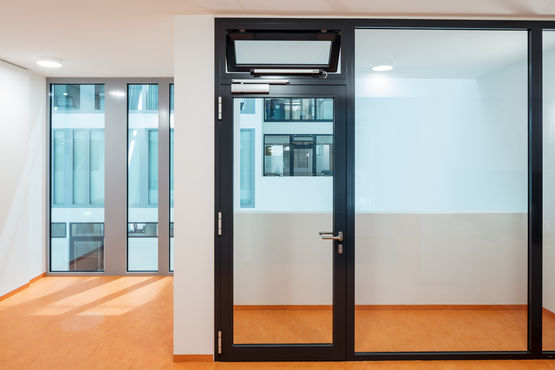 Door closers are used to close doors automatically. © Jürgen Pollak / GEZE GmbH
Self-closing doors are doors which feature a door closer. These automatically close doors after they have been manually opened. They cause the door leaf to move into the door frame and the lock latch to fall into the strike plate.
But why is it important for doors to be closed, rather than open? There are numerous reasons for this: due to legal regulations, for reasons of safety and hygiene, to save energy or to avoid draughts.
Installing door closers is often beneficial. It is even compulsory for fire and smoke protection doors since these need to close independently. The most important reasons for using door closers are:
Security: Closed doors protect against unauthorised access, break in and theft.
Fire protection: Construction regulations require the use of fire protection doors, not only in public buildings or underground car parks, but also for doors in homes or hotel rooms. Their purpose is to stop fire hazards from penetrating passages in fire-resistant and fire-retardant walls. These fire protection closers must close independently.
Noise protection: Closed doors protect against loud noise.
Indoor climate/saving energy: Closed doors protect against wind and weather, draughts and heat loss.
Hygiene: Closed doors protect against contamination. Self-closing doors do not need to be touched to close. They are therefore particularly useful where there is a high likelihood of transmitting bacteria and germs to hands: in hospitals and public toilets, for example.
Private sphere: Closed doors protect our privacy.
Convenience: Self-closing doors are practical and comfortable for everyone, but particularly for children, older people and people with limited mobility.
Types of manual door closers
The self-closing function can be provided by manual door closers. Depending on the assembly, a distinction is made between door closers fitted on the frame, door closers integrated in the door and door closers integrated into the floor.
External overhead door closers fitted on the frame: These are fitted to the upper area of the door leaf, or on the upper part of the door (frame) where they remain visible. They can also be retrofitted. External overhead door closers fitted on the frame are created with bars or guide rails.
Concealed/integrated overhead door closers: Integrated overhead door closers are usually fully built in to the door leaf and frame which protects the components from contamination and the impacts of weather. Integrated door closers are particularly popular with architects since they are almost invisible.
Floor-mounted door closers: The individual parts of floor-mounted door closers are usually installed into floors and door leaves where they are virtually invisible. In addition to the closing function, they can also house the leaf's lower bearing. A recess in the floor is often needed for the floor box.
Manual door closers for swing leaf doors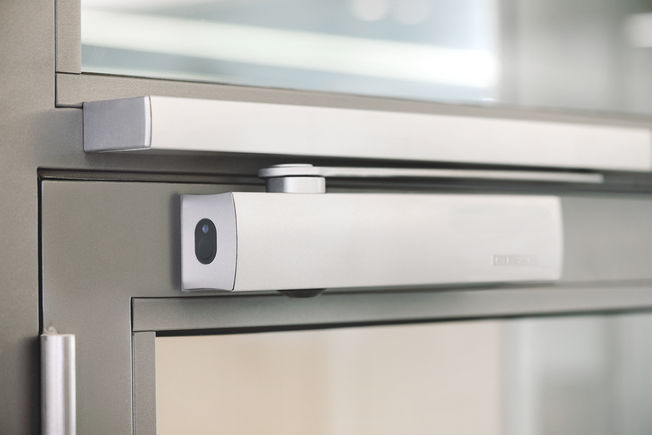 Overhead door closers with guide rails
The sliding fitting system of the guide rail closer lies flat on the frame and the door leaf. Overhead door closers with guide rails fitted on the frame are elegant and slim. © Jürgen Pollak / GEZE GmbH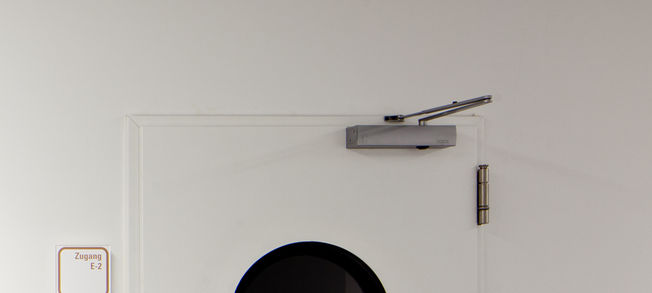 Overhead door closers with bars
Overhead door closers fitted on the frame are fitted to the upper area of the door, on the door leaf or frame, where they remain visible. Overhead door closers fitted on the frame with scissor bars are popular. © Jürgen Pollak / GEZE GmbH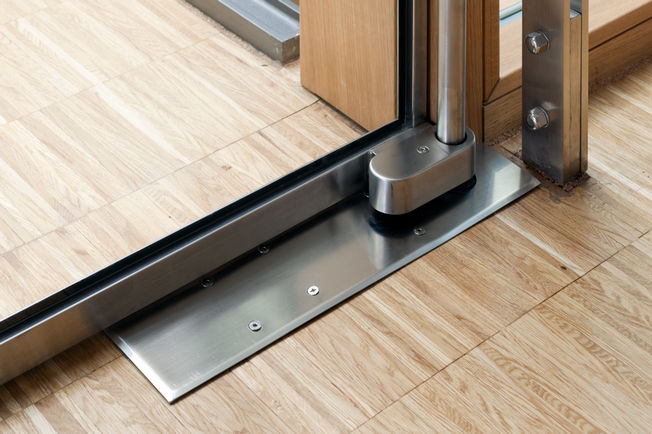 Floor-mounted door closers
For floor-mounted door closers, the closing sequence mechanism is usually housed in a box in the floor below the door element, providing an elegant visual solution.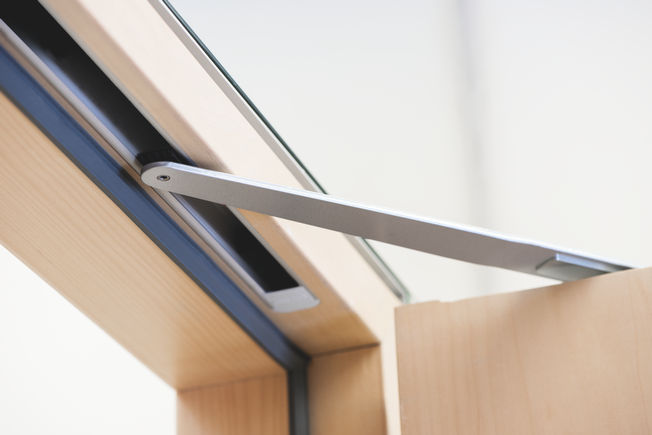 Hidden/integrated overhead door closers
Integrated overhead door closers are invisible when the door is closed - and therefore an elegant solution for modern architecture, where covered sliding fitting systems are preferred. © Jürgen Pollak / GEZE GmbH
Correctly setting door closers
For manually dampened door closers, mechanical energy which is exerted when the door is opened is stored, e.g. in a spring. This energy is then used to close the door again. The closing movement is usually hydraulically dampened.

It is important to correctly adjust the settings of a door closer. This also ensures that the door closes properly, and does not remain ajar just before the closed position. Incorrect settings can lead to the door shutting too quickly and banging loudly. Various models feature different setting options. In addition to the closing force, the closing speeds, latching action and back check can also be set. This is usually works using adjustable valves.

When adjusting the door closer, ensure that the right tool is always used to prevent damage.
Download the recommended settings for GEZE door closers (PDF | 764 KB)
Fire protection - door closers prescribed by law
Fire protection doors have higher demands on the door closing aspect than doors which are not intended for fire protection. Doors which are used as part of Fire or smoke protection (smoke and heat extraction system) and are therefore subject to particular demands generally need to be self-closing. Suitable, approved door closers can provide this function. For double-leaf doors, a closing sequence control is prescribed to guarantee that the passive leaf closes first, followed by the active leaf. This is the only way to guarantee the type of closing required. Hydraulically controlled door closers for fire protection doors are inspected and manufactured according to the DIN EN 1154 standard.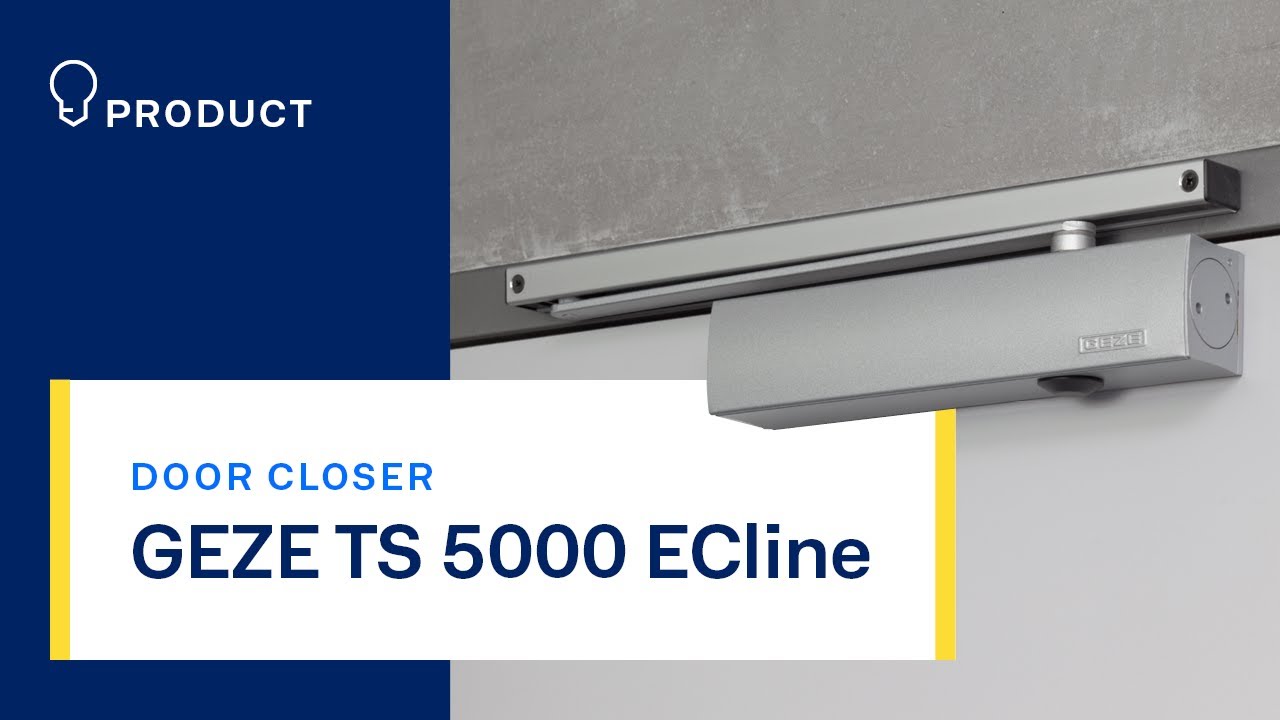 GEZE TS 5000 ECline: overhead door closers with opening assistance
Fire protection versus access for all
Doors with manual door closers are often difficult to open because opening the door requires a certain amount of energy, which is then used for the closing process. These doors present an obstacle to older people and children, and do not therefore meet access for all demands. DIN 18040 is a key standard which defines barrier-free construction in Germany. This standard sets a maximum applicable operational force of 47 newton metres for self-closing doors.
If a standard door closer cannot create an opening movement which is sufficiently effortless, then specific equipment options, for example via integrated opening assistance or via a free swing function, can be used to do this.
GEZE free swing door closer brochure (PDF | 6 )
Hold-open systems keep fire protection doors open
Fire protection doors are, however, often perceived as barriers on an everyday basis, and keeping them open for a longer period, or on a permanent basis, is often desirable. Fire protection doors may under no circumstances be mechanically held open (for example with a door wedge).
This is where hold-open systems come in. These keep fire protection doors open for everyday use, but automatically release them in the event of an alarm so that the door closers can do their job. Fire protection doors can thus be held open with hold-open systems, which also guarantee safe closing in the event of fire. In normal situations, these solutions guarantee access for all at the same time as ensuring reliable closing at any time in the event of a fire.
TIPS ON FIRE PROTECTION AND ACCESSIBILITY
GEZE door closers for all applications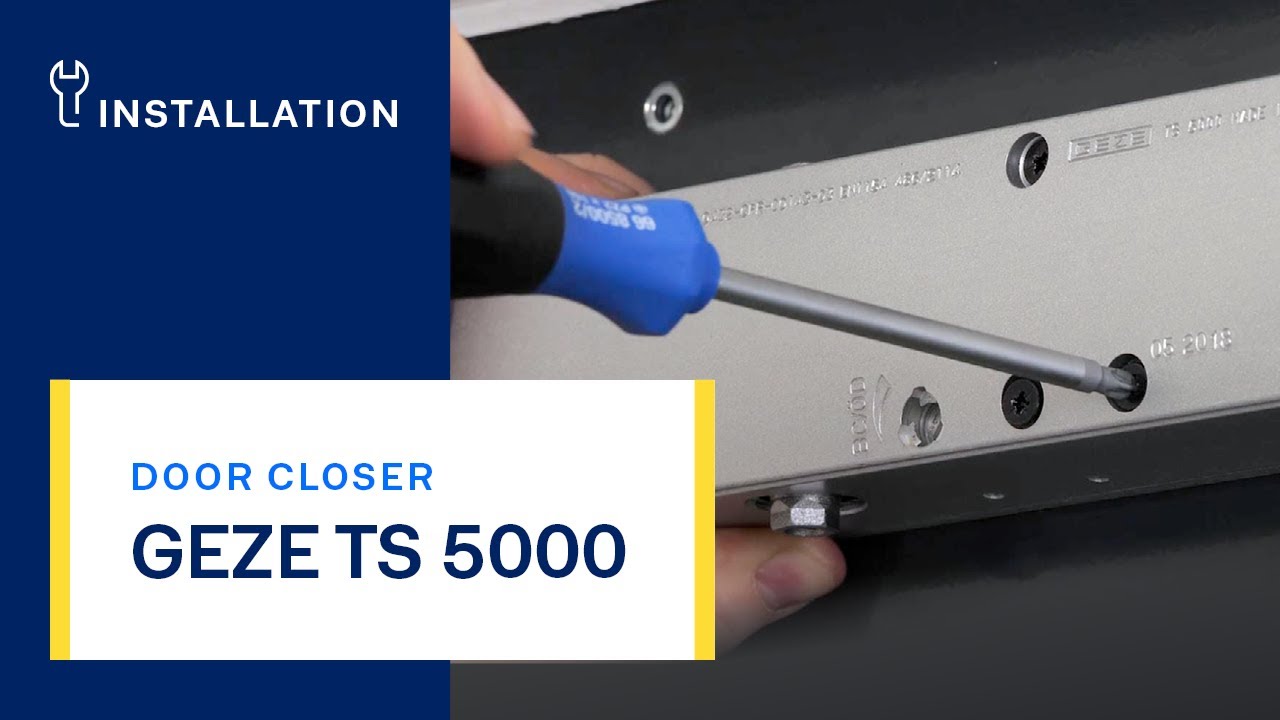 GEZE TS 5000 overhead door closer: 30 years of innovation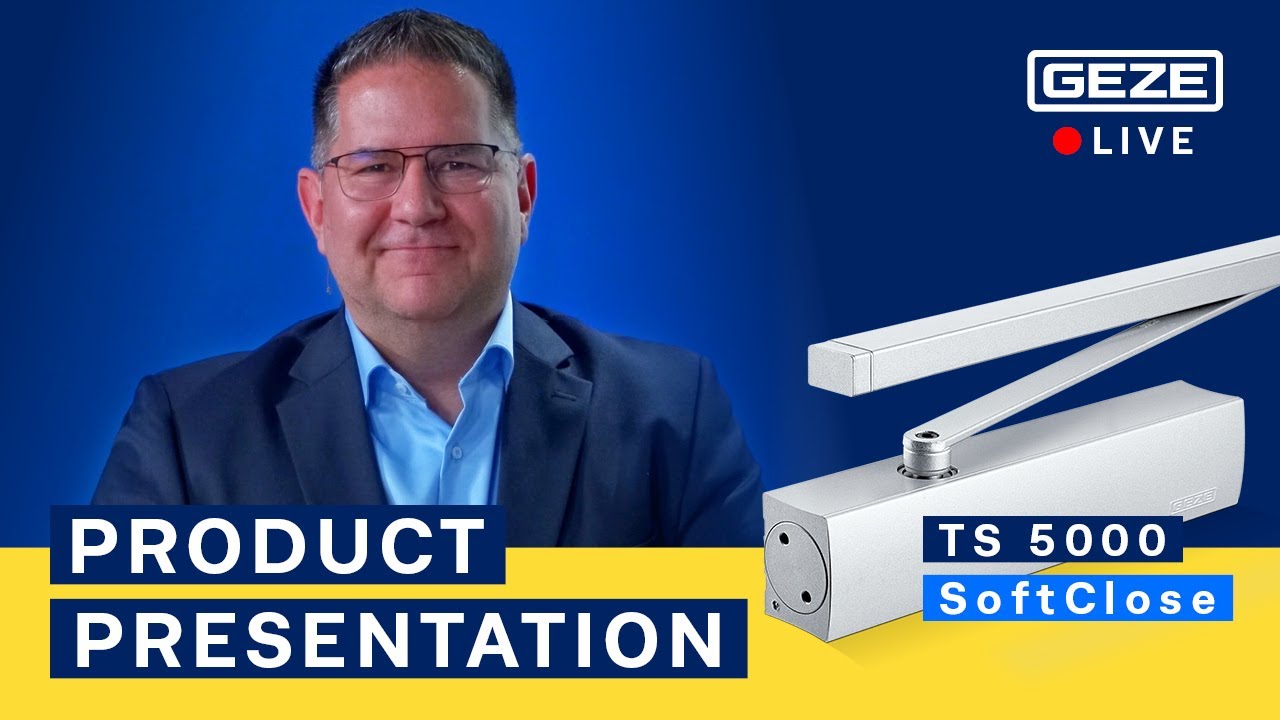 Product presentation of our door closer TS 5000 SoftClose.
GEZE offers door closers for a wide range of door contexts with a range of individual setting options. From the smallest overhead door closer to the multi-faceted variations for use with fire and smoke protection doors: the range of door closers with bars or guide rails can be combined in many ways. The type of door closer which can be used is determined according to the requirements, door type, size, leaf weight, door material, door width, and where the door is installed. The choice also depends on whether the door closer will be operated inside or outside, in a wet or dry room, or in the heat or cold.
An optimal relationship between force and closing speed is essential to close doors reliably and quietly even in challenging environmental situations. The TS 5000 SoftClose, for instance, fulfils this requirement by closing doors reliably and quietly even with wind and suction or in the case of changing pressure ratios in interlocking door systems and staircases.
The number of people using the door, their personal circumstances (people with children, the care-dependent, etc.) and other demands such as access for all and fire protection are also taken into account. GEZE provides advice from specialists in all these areas - in addition to product consultancy and service, thus providing comprehensive support for clients throughout the whole product life cycle.
Automatic doors with door closers
Alternatively, the self-closing function can be met by an electric door drive, which also permits automated opening. These types of fully automatic sliding, side-hung leaf, or revolving doors are usually activated by sensors which register the movement of the people in front of the door. There is also an open switch which can be activated without contact. A simple hand movement in front of the switch activates the door. If a lower level of automation is needed, a swing door can also be opened by a "push & go" movement. A light push on the door leaf is enough to start the door opening motor.
All automatic doors, as the name suggests, close again automatically. Presence detectors ensure, during opening and closing, that any risks of entrapment, shearing, collision and drawing in are prevented.
Learn more about automatic doors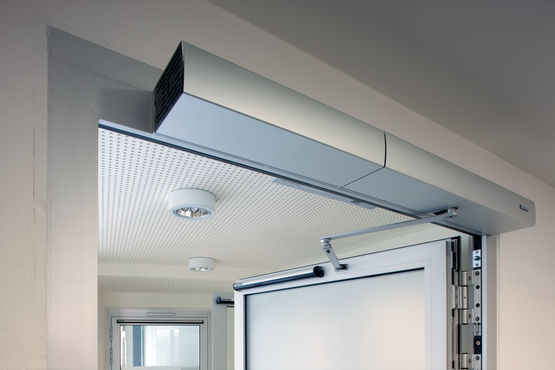 GEZE Slimdrive swing door drive with integrated hold-open device © Nikolaus Grünwald / GEZE GmbH
Closing of fire protection doors
If fire protection doors are operated as automatic swing doors and have an integrated hold-open device, they are considered to be a hold-open system when combined with a smoke switch control unit. Hold-open systems temporarily prevent doors from automatically closing. In the event of an alarm triggered by the fire detector, or in the event of a power failure, the hold-open function is switched off and the door closer brings the door to a close. GEZE has a wide range of hold-open devices and hold-open systems available, designed specifically for use in fire prevention systems.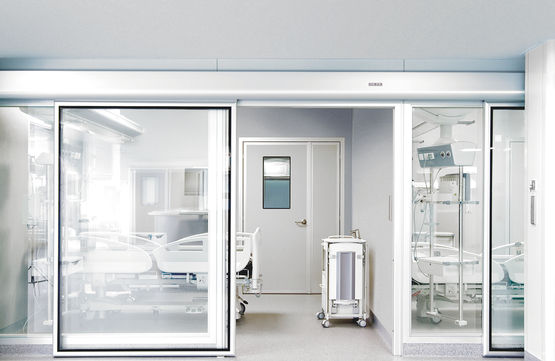 Tightly closing and accessible Powerdrive HT sliding door system from GEZE © GEZE GmbH
Tight seal sliding doors for optimal hygiene conditions
In clinical areas (operating theatres, intensive care units or dialysis units) and in clean rooms (sterilisation rooms and laboratories), doors with a particularly tight seal are needed to guarantee good hygiene and the maximum possible air tightness. GEZE offers particularly tightly closing access solutions for this with GEZE ECdrive H and Powerdrive PL-HT hermetic sliding door systems which keep germs and foreign objects outside.
Go to the GEZE automatic sliding doors
Comprehensive advice
Door closers are available in various designs: fitted on the frame with bars or guide rails; integrated or concealed in the floor; in any colour, and with a cover option.
There are door closers available for manual operation of doors, or for integration into the door drives of automatic doors, which of course meet all legal requirements and standards, e.g. for fire protection and safety.
GEZE provides extensive advice on determining the best door closers for the respective application (type of building, footfall, door location, etc.) via the architect hotline.
GEZE also offers individual solutions for door closers, including advice and compiling a suitable solution.
Support in many forms
GEZE offers installation companies special training on installing door closers. In addition, there are numerous aids in the form of installation instructions, installation videos, cable plans, etc.
Go to the TS 5000 installation video
Help, tips and tricks
GEZE Service offers 24/7 help for problems with door closers. There is always someone available on the hotline and service staff are quickly on-site. Simple tips and tricks are often helpful to get door closers working again. FAQs and guidelines provide first-level support in case of problems.
Downloads
You can find GEZE brochures on the topic of self-closing doors available for download as a PDF here.