Services
GEZE Services
At GEZE, our goal is your long-term satisfaction, and we want our products to meet your needs in a reliable and trouble-free way. That's why our emphasis is on comprehensive advice and services so highly – throughout the entire project cycle. You'll find a list of many of our services below.
Service Contract
Tailor made solution approaches for every type of building
We want to offer our customers safety and efficiency quickly. It is above all a matter of solving problems even before they happen. Our actions take account of the frequency of use and other important factors. A customised, tailor-made maintenance model cannot do other than meet all your requirements.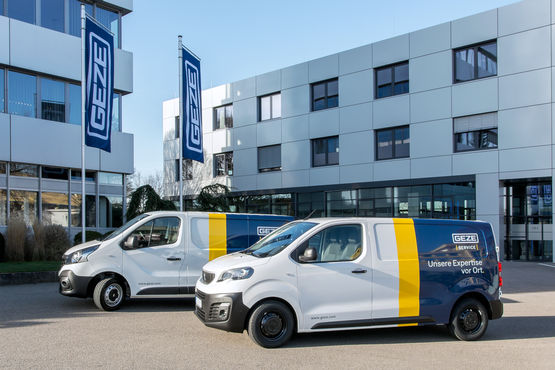 Our service employees are here to support you with their expertise and experience. © GEZE GmbH
Regular maintenance is an essential factor for your doors, windows and safety systems, because it guarantees: -Safety -Long-life -Assistance 24h/365* - Immediate response and guarantee also of fast action within 4 hours of the request for assistance. The GEZE technical team is constantly trained and ready to support you for any requirement efficiently, professionally and speedily: GEZE Service ensures ad hoc update programmes, taking account of current legal regulations.
The maintenance of safety exits is compulsory by law every 6 months. GEZE will think of this for you!
Comprehensive service solutions from GEZE
A single partner for all the entrances of one building: automatic doors, barriers, gates, smoke and heat extraction systems, shev, fast-action roll-up doors, sectional doors, REI doors, emergency exits.
GEZE produces modern preventive maintenance and predictive statistics, using a wide-spread and rapid network of prompt action in all regions of Italy, performing check-ups and assistance on all makes of systems, as well as up-grading and ensuring safety according to the latest legal provisions.
GEZE prepares and offers the most suitable action plan (ad hoc on the basis of the type of users and usage traffic) and, together with the customer, sets out the frequency and length of the contract.
Contact us for detailed information
Modification & modernisation
From consultation to installation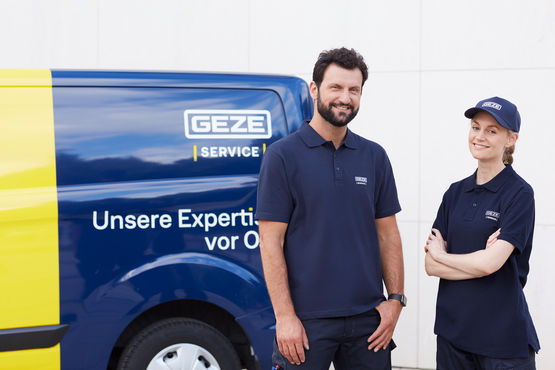 GEZE Service @work © Karin Fiedler / GEZE GmbH
Generally speaking, the expected lifetime and useful life of building technology has always been shorter than that of the building itself. But new standards and legislation are changing expectations, especially with regard to building safety.
GEZE supports you in modifying outdated equipment to improve the utility and safety of your systems. Modernisations bring the products up to the latest technical standards. In addition, key functional parts can be retrofitted to improve operating properties. GEZE offers forward-thinking product solutions and long-term expertise.
Looking for spare parts?
We stock a full range of original replacements parts, including for older systems. We offer competent consultancy and quickly available parts which we can get to you the next day if necessary.
Please contact us via phone +39-039-9530-401 or e-mail:
If you do have a personal log-in, you can also order spare parts in our client portal:
Glossary
The GEZE glossary of technical terms explains key terms related to door, window and safety technology from "A" for activation devices to "V" for ventilation.
GO TO THE GLOSSARY