Topics
Hold-open systems make fire protection doors accessible
They can be quite irritating for people who need to pass through them repeatedly: smoke and fire protection door must remain closed. Unless they are equipped with a hold-open system, in which case they can remain open. Because hold-open systems guarantee doors will close safely in the event of a fire. Because these are complex installations, regular maintenance is mandatory.
Fire and smoke protection doors: necessary, but often irritating
Fires can break out quickly, often without anyone noticing. Sealing off is always the most effective measure to prevent the spread of deadly fumes. This means that fire resistant walls in buildings should prevent the spread of fire and smoke for as long as possible. However, they can do this only if the fire protection closers (fire protection doors) in fire protection walls, i.e. doors and gates, are closed in the event of fire. Fire protection doors must therefore shut independently by means of door closers.
But doors are often difficult to open. Even opening the door is in itself frequently felt to be inconvenient and impractical. Children and people with physical limitations may need external help. For them, a closed door can be a barrier. Keeping doors open for longer periods, or even permanently, is often therefore often desirable in everyday situations. Holding a door open mechanically using a wedge or hook for example is, however, grossly negligent from a fire protection perspective because the door closer is then unable to close the door in the event of a fire.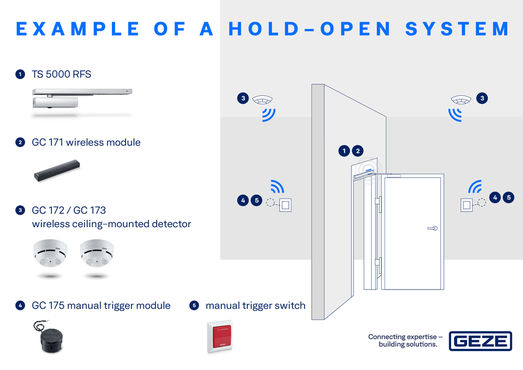 FA GC 170 - Example of a hold-open system © GEZE GmbH
Hold-open systems instead of wedges
Approved electric hold-open systems are more practical and completely safe in terms of fire protection. They disable the self-closing function of a fire protection door in a controlled way. This means that they keep fire protection doors accessibly open, but automatically release them in the event of a fire so that the door closers can do their job.
Hold-open systems are complicated technical systems. They consist of at least one fire detector, a power supply, a hold-open device and a trigger mechanism. Hold-open devices are often electro-magnetic systems such as hold-open magnets, magnet valves and magnet couplings. Hold-open magnets need wall-mounted magnetic counter plates. The other systems are already integrated into the door closer or the guide rail.
All types of hold-open device have one thing in common: they are activated by the fire detector in the event of an alarm, or the trigger mechanism in the event of a power failure. The door is released and brought to a close by the door closer. For double leaf doors, an integrated closing sequence control feature ensures the leaves close correctly. The protection aim of the fire protection door is thus achieved: it prevents the spread of fire and fire smoke.
The door can be released manually at all times
If the door should not be open, people can intervene at any time and trigger the hold-open function manually. This is because the general construction technique permit from the German Institute for Construction Technology (DIBt) prescribes a manually-operated trigger option. This can be achieved with a manual trigger switch which switches off the holding current. This must be red, and display the wording 'close door' . They must also be located within easy reach, and must not be concealed by doors which block access. If the hold-open device can be triggered by slightly pushing on the door leaf, no manual trigger switch is needed.
Plus: swing door drives and free swing door closers which permit almost resistance-free passage through fire protection doors must be taken into account as a part (hold-open device) of a hold-open system and may already be included as components of the hold-open system, such as for example a power supply, trigger mechanism and fire detector.
Hold-open systems for fire protection doors
Fire and smoke protection doors prevent fire or smoke in buildings from spreading. German construction law regulates specifications for these hold-open systems. Fire and smoke protection doors must be self-locking in accordance with the "Guidelines for the Statement of Approval for Fire Protection Closers" (Richtlinien für die Zulassung von Feuerschutzabschlüssen) of the German Institute for Construction Technology (DIBt). If they are kept open, only an officially approved hold-open system is acceptable.
The sample technical construction standard administrative regulations (Muster-Verwaltungsvorschrift Technische Baubestimmung, MVV TB) stipulates the following:
"The hold-open system is a system consisting of devices and/or combinations of devices able to deactivate the function of locking facilities in a controlled manner. If the respective trigger mechanism is activated in case of a fire or a fault, or if it is activated through a manual triggering operation, the closers that are still open are automatically released securely for locking. A hold-open system comprises minimum
a fire detector as a smoke and, if necessary, heat detector,
a signal processing trigger mechanism,
a power supply connected to a power grid,
a hold-open device connected to the power supply, and
a manual trigger switch".
Important: These regulations for hold-open systems apply to single and double leaf swing doors in interior walls. Hold-open systems cannot be used on exterior doors without further measures. The classification for a fire protection wall in accordance with Section 30 offers guidance as to whether a certain hold-open system is approved according to a "general official building approval". If further clarification is needed, an inquiry must be submitted to the responsible higher construction supervision authority, in the form of a property-specific design certification.
In general, hold-open systems are also suitable for protected internal applications on fire protection exterior doors and windows. The specified operating conditions for temperature and humidity must be observed in these applications. However, the German Institute for Construction Technology recommends obtaining at least one additional assessment from a fire protection expert.
Construction technique permit of hold-open systems
A hold-open system needs a general construction technique permit (aBG) as proof of usability in Germany. For this, it must be subject to a suitability inspection in accordance with the specifications of the German Institute for Construction Technology (DIBt). This type of statement of approval is usually valid for five years and can be extended on request.
If the general construction technique permit for a hold-open system expires, the installation is no longer approved for installation in the building. Existing installations may continue to be used, however, if they meet the original demands, and are regularly inspected and maintained. Building operators should therefore retain the acceptance protocol from the company which installed the installation, and the proof of usability.
Generally, only complete hold-open systems with all the corresponding parts are inspected and approved. Exchanging an individual component for a device which is no longer listed in the construction technique permit results in the whole hold-open system losing its operating permission. A new acceptance process is needed after a valid statement of approval has been obtained.
An integrated hold-open system must be checked for proper functioning and correct installation (general type certification and manufacturer's documentation). Following the acceptance inspection, an acceptance plate must be affixed which identifies the date of acceptance. This acceptance inspection must be organised by the building operator, and can be performed only by the manufacturer of the hold-open system, or by a person certified by the manufacturer (an expert).
The building operator must retain all documentation in relation to the correct installation and successful acceptance. This must be produced on request (for example fire inspections made by the municipal authorities, fire service).
Maintenance stipulations are set out in the DIN 14677 series of standards – Maintenance of electrically controlled hold-open systems for fire and smoke door assemblies as well as for electrically controlled hold-open systems for fire barriers in the course of ground-bound conveying systems. This consists of Part 1: Maintenance measures and Part 2: Demands on the professional. In Germany, general construction technique permits for hold-open systems refer to parts of DIN 14677-1.
The building operator must keep the hold-open system operational at all times, and check that it is functioning properly at least once every month.
The operator is also obliged to organise annual inspection of the proper and failure-free interaction of devices, and general maintenance. The operator is obliged to employ a qualified maintenance company, or a specialist company which is able to commission the maintenance of the hold-open system. The scope, result and date of the inspection and maintenance must be recorded and archived.
European standard EN 14637 – Building hardware – Electrically controlled hold-open systems for fire/smoke door assemblies – Specifications, test methods, application and maintenance also contains general recommendations for maintenance and refers to the need for compliance with respective national and local regulations.
Fire protection doors must be officially approved as "fire protection closers" by the German Institute for Construction Technology (DIBt). Installations added to a hold-open system at a later date are considered as changes to a fire protection door. Operators therefore need to demonstrate that the intended changes correspond to permissible changes and extensions for fire protection closers, or that a conversion is in line with the fire protection door manufacturer's specifications.
GEZE hold-open systems - compact and safe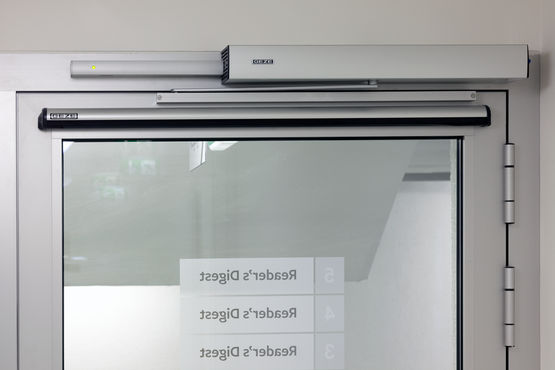 Fire protection doors with a drive unit must always be coupled with a hold-open system. © Nikolaus Grünwald / GEZE GmbH
GEZE has a wide range of hold-open system available, designed specifically for use in preventive fire protection. They are all inspected and certified in accordance with the relevant standards, and are subject to a general construction technique permit from the German Institute for Construction Technology (DIBt).
Compact hold-open systems by GEZE consist of an overhead door closer and a guide rail system. The power supply, smoke switch control unit and electromechanical hold-open function are integrated into the guide rails - so there are no bulky parts on the door or on the walls. For the system variants for double leaf fire protection doors, the electrical hold-open device for both door leaves and the mechanical closing sequence control are integrated in a continuous guide rail.
The FA GC 170 wireless extension is an award-winning innovation that eliminates the need for time-consuming wiring of the individual components of the hold-open system. This advantage is particularly beneficial when retro-fitting existing buildings, especially listed buildings.
Go to reference project: Retro-fitting fire protection in a 'Gründerzeit' (founders' period) building
Simple installation and commissioning via ECwire technology
Versions of GEZE hold-open systems are available with double wire ECwire technology for the simple cabling of additional smoke detectors, for example. This system permits convenient installation, networking and commissioning of additional ceiling-mounted detectors.
GEZE hold-open devices
The GEZE portfolio also includes: a number of hold-open devices for overhead and integrated door closers, floor-mounted door closers and for automatic swing door drives. These can be individually integrated into the building concept according to a client's wishes. A hold-open device is thus part of a hold-open system, which it forms together with a smoke switch control unit, a trigger mechanism, a fire detector and a power supply.
Numerous standards and guidelines
With its specialist knowledge and many years of experience in fire protection planning, GEZE is well positioned to provide comprehensive consultancy support.
GEZE installers are trained to comply with all standards and guidelines, so that the installed hold-open system meets expectations.
Acceptance and maintenance: performed only by experts
Be aware of typical errors when installing hold-open systems
the selected hold-open system does not fit into the opening angle (the door closer is in contact with the door)
door is too wide
cable guide is incorrect/missing
smoke cannot be discharged
contamination of the equipment during the construction phase
protective cap has not been removed
work carried out after commissioning without protection, smoke detector contamination
air inlets have been sealed following initial acceptance due to work being carried out, and protective covers have not been removed after the end of the work
the space between the lintel-mounted detector and the ceiling is too low

Hold-open systems may be accepted and maintained only by an expert or an authorised representative of the manufacturer. Evidence of this expertise must be provided.
Inspection and maintenance may also be performed by GEZE service technicians
Hold-open systems need to be checked monthly, and be inspected and maintained annually. The monthly inspection is necessary to determine whether the door closes properly.
To operate hold-open systems safely, ensure that:
they are installed correctly in accordance with the stipulations of the construction technique permit and the manufacturer's specifications
maintenance specifications have been met
component exchange time limits have been followed
maintenance documentation is completed
the minimum qualification level for maintenance staff has been met
Service technicians from GEZE Service GmbH are of course also available to perform inspection and maintenance.