Brigitte Vöster-Alber's 50th company anniversary at GEZE
On 1 July 2018, Brigitte Vöster-Alber, the Chief Executive Officer of GEZE GmbH, will celebrate her 50th anniversary with the company. Since 1968, she has been at the helm of the company, which employs around 3,000 people worldwide and is one of the leading suppliers of door, window and safety technology, automatic door systems and building automation. She has always remained focused on the future, and has never shied away from making tough yet necessary and fruitful decisions for the company.
50 years of leadership = 50 years of progress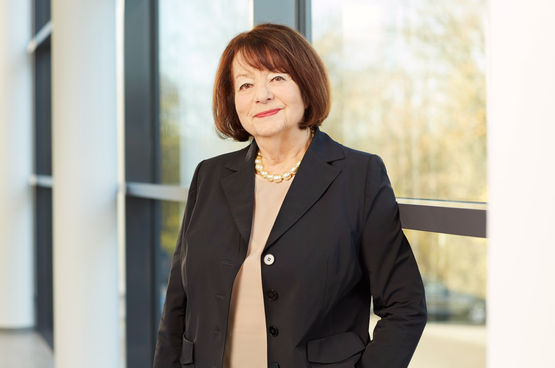 Brigitte Vöster-Alber has been the CEO of GEZE GmbH since 1968. © Karin Fiedler / GEZE GmbH
Brigitte Vöster-Alber took charge of GEZE when she was just 24 years old, following the death of her grandfather, Reinhold Vöster, in 1968. Since then, she has boosted and continuously expanded the corporate strategy, the product portfolio and international business. Today, the company is growing successfully, with production sites in China, Spain and Serbia, 31 subsidiaries, and numerous sales representatives. At the same time, the research and development sector has also been expanded under her aegis. In 2017, GEZE invested 13 million euro in the construction of a new state-of-the-artdevelopment centre at its Leonberg headquarters. A total of 28.8 million euro has been invested here over the past few years. This reflects the CEO's clear commitment to the site and the 'Made in Germany' quality mark. The company also continues to invest in foreign subsidiaries, and aims for the highest possible quality standards. Thus puts GEZE on the global stage, but the company remains steeped in tradition, 100% family-owned, and well positioned to achieve organic growthn.
Courage pays off
For half a century, Brigitte Vöster-Alber has not shied away from making difficult – and sometimes unpopular – decisions. A major turning point was the separation from the popular – but no longer profitable – ski division in the 1980s. This created new capacity with which to focus on modern door and window solutions, and to further expand the export division. Openness and the courage to adopt new approaches are also reflected in current developments. Under Brigitte Vöster-Alber's leadership, the company is currently pushing ahead with intelligent building networking, taking account of the latest trends such as the Internet of Things. Lastly, and importantly, the company survived the 2008 financial and economic crisis unscathed under Vöster-Alber's leadership. In 2009, GEZE invested 29.6 million euro in expansion activities. 'You can achieve great potential by remaining active, even in times of trouble,' says the GEZE CEO.
"Businesswomen are still not visible enough"
When Brigitte Vöster-Alber was apppointed CEO of GEZE, there were hardly any women in leadership positions. "I knew from my grandfather what it meant to be made the sole chairperson of a family following the untimely death of my father," says Vöster-Alber. "I had to find my way in a male-dominated sector, and assert myself." Businesswomen were the exception at that time, but they are certainly more common today. However, according to Brigitte Vöster-Alber, there are still too few women in the boardroom. Traditional values and clichés still come into play, for example balancing family with a career. She has always promoted this at GEZE. At 29%, the current proportion of women in managerial positions at GEZE is exceptionally high, and has increased by around half in recent years. There are also a lot of women among the company's young talent, and 23% of the company's Cooperative State University trainees and students are female.
Great honours – great commitment
For Brigitte Vöster-Alber, businss has always gone hand-in-hand with social commitment. She inherited this attitude from her grandfather, building on to ultimately be awarded the Federal Cross of Merit in 2009. In 2013 – the company's 150th anniversary year – she was granted honorary citizenship of the town of Leonberg. An accolade which had previously also been awarded to her grandfather, Reinhold Vöster. In 2016, the Konrad Adenauer Foundation honoured Brigitte Vöster-Alber with the 'Preis Soziale Marktwirtschaft 2016' (Social Market Economy Prize). "She is the driving force behind the goals of the family business, and the guardian of its values. For example, she advocates a broad entrepreneurial vision, the capacity for innovation, and takes a high level of responsibility for the company's employees, the wider society, and the environment," said the jury in its statement. In addition, she received the Business Medal of the state of Baden-Württemberg in 2016. This accolade is awarded to people and companies who have rendered outstanding services to business in Baden-Württemberg.

Regarding society, children's aid projects such as the Stuttgart-based 'Olgäle-Stiftung für das kranke Kind e.V.' (Olgäle Foundation for Sick Children) and the child welfare organisation 'Plan International' are close to the mother-of-four's heart. Sponsored activities relating to art, culture and sport are also of great importance. As an animal lover, Brigitte Vöster-Alber is a particularly keen on horse-riding, and would actually rather have studied veterinary medicine. As she celebrates her anniversary, spending time with her horses and dogs is an important escape from her life in business. Just like her grandfather used to do with her father, she leads the company in constructive collaboration with three of her four children (one of her daughters chose to become a doctor).