Topics
Emergency exit protection (FWS) - safety that saves lives and protects property
Always open but safely closed - the demands on escape and rescue routes are extensive, and initially seem contradictory. They need to save lives in the event of danger, and prevent access by unauthorised persons on an everyday basis. Intelligent emergency exit system solutions are the perfect solution for this apparent contradiction.
Escape routes for personal safety
Frequent flyers know it off by heart. Before each flight, the cabin crew point out the two light strips on the floor of the cabin which indicate the route to the emergency exits. Conversely, escape and rescue plans in buildings call for an active approach.
We usually feel safe in a building. A sudden unforeseen event, such as a loud bang in a shopping centre, takes virtually everyone by surprise, resulting in uncontrolled mass panic. It is precisely such sudden events that present a particular risk to our safety. A safe place very quickly becomes a life-threatening area that needs to be evacuated as quickly as possible.
Flight as a human reaction to acute danger
People react to danger in many different ways. Very few remain quiet and composed; most descend into panic and act irrationally. But generally speaking, we all have one thing in common: the urge to get away from the dangerous situation. The natural reaction to this is to flee.
Faced with an acute danger in a building, the people caught up in it are confronted with structural and spatial realities: walls, stairs and fixings suddenly become obstacles which make quickly leaving the building more difficult. People in a state of fear or panic may also lose their sense of direction and so increase the risk to their lives.
Escape routes save lives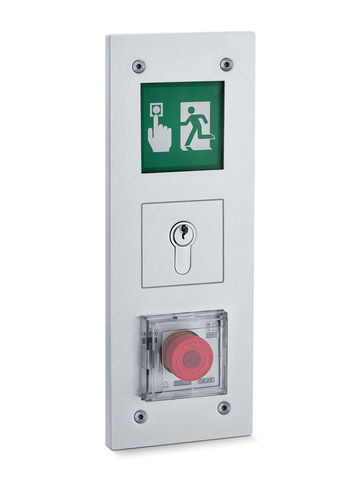 © GEZE GmbH
Escape and rescue routes can save lives in dangerous situations. In a hazardous situation, clearly identified traffic routes lead people out of the building or into a secured area as quickly as possible via emergency exits or panic doors. At the same time, they allow the fire service or an emergency doctor to take quick rescue action from outside.
Special legal and building regulations apply to guarantee safety by means of escape and rescue routes. In Germany, these are defined in the Technical Rules for Workplaces. These regulations ensure that emergency exit protection (or escape route protection) always takes top priority. Additionally, state-specific building regulations need to be taken into account when designing escape routes and emergency exits in Germany.
According to the Technical Rules for Workplaces, an escape and rescue route guarantees safety only when specific guidelines are taken into account.
Guidelines for escape and rescue routes
Layout and dimensions of escape routes
Structural and technical design of escape routes
Identification of escape routes
Safety lighting for escape routes
Creation of escape and rescue route plans
Emergency exits: where various functional demands interact
Doors must meet various demands depending on their intended use. These can be optimally combined by using different system components, however. Early planning in terms of the intended use is an important part of this.
For escape and rescue routes, the most important challenge is to allow people to evacuate the building quickly and safely. When there is no danger present, however, the doors must remain closed and protect against unauthorised access. In particular, it is important for the building operator to protect the facilities against sabotage, burglary, theft or misuse.
Emergency exit functionality in emergency situations
Emergency exits are a significant part of escape and rescue routes. The layout and number of emergency exits depends on the building and the respective building regulations. One this is certain: emergency exits must allow people to quickly evacuate the hazardous area at any time. Being able to open doors speedily and simply without any external aids is critical. Emergency exits must open immediately in the direction of escape and must lead those in danger to the outside, or into protected areas.
According to new European standards, emergency exits can be equipped with a variety of emergency exit locks. The optimal selection of emergency exit locks depends on how many people need to evacuate in an emergency. If there is a risk of mass panic, panic exit devices should be integrated into the doors in accordance with DIN EN 1125. These consist of a horizontal bar combined with a panic lock, which may be a mechanical, electro-mechanical or motor panic lock. In public buildings in particular, visitors are not familiar with the on-site escape routes and functions of the emergency exits. If they press against the door leaf in the direction of emergency exit, panic exit devices allow the door to open in less than a second with no instructions.
If the number of people in the building is manageable, and they are familiar with the escape routes, emergency exit devices according to DIN EN 179 are usually sufficient. For example, the horizontal bar can be replaced by a door handle since there is no chance of panic.
Functionality of emergency exits in normal operation
Emergency exits are very often used in fire protection sections. The safe flight function is just as important as the self-locking and fire-proof features of the door installation. If automated doors need to provide complex functions in escape and rescue routes, a system solution comprising a door control unit, an electronic locking element such as escape door locks or emergency exit electric strikes for example, and a panic lock (also called anti-panic locks) is recommended. This guarantees both protection against unauthorised access on the one hand, and free access for people evacuating in the event of a hazard on the other.
Doors are one of the most important components in the safety design of a building.
Thomas Borgmann, safety technology segment manager, GEZE GmbH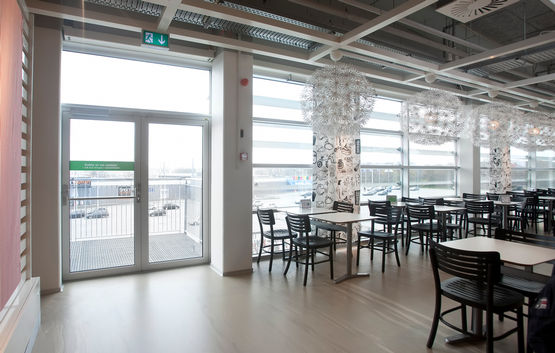 Escape routes must be clearly identified in buildings. © Morten Bak / GEZE GmbH
The door control unit, as the 'brain' of emergency exit control, assures and monitors the opening and closing procedures in escape routes. The self-locking panic lock guarantees quick opening in an emergency, while the door control unit controls access. Activated by a fire alarm system, or in the event of a power failure, it automatically locks if a motor lock is used. The door can still be passed through in the direction of emergency exit since the emergency exit closure is automatically unlocked in the event of a fire alarm or power failure. The door also opens via the emergency button on the door control unit if several people push against it in a panic situation. The door can be opened from the outside using a key at any time. If a self-locking panic lock is used, this guarantees protection against burglary in the opposite direction to the direction of emergency exit in accordance with insurance requirements.
With this trio, automatic swing doors in normal operation are closed by self-locking of the panic lock, and can be controlled and secured by the door control unit. At set times, such as daytime operation, the door control unit can release the door. Otherwise, it permits controlled individual release via a key or an access control system. In the event of danger, the door can be operated at any time by pressing the emergency push button of the door control unit. Guaranteed safety is crucial in an emergency: GEZE door control units are tested in compliance with eltVTR (guidelines for electronic locking systems) and TÜV (technical supervisory association), and panic locks in compliance with the standards DIN EN 179, 1125, 12209, 13637, 1627 and 1634-1 applicable for locks.
Emergency exits influenced by smoke protection pressure systems
Smoke protection pressure systems help to keep rescue routes smoke-free in the event of a fire, for instance in staircases. In addition, smoke protection pressure systems are used in buildings where a large number of people are present who may not be able to rescue themselves in case of a fire. These include homes for the elderly, hospitals, nursery schools, etc. Fire protection doors near smoke pressure systems need particularly detailed planning; they may otherwise not be able to offer barrier-free access or may not close reliably in certain circumstances.
Fire protection doors in smoke protection pressure stairwells
For doors with a direction of emergency exit leading into a staircase, the high pressure is on the hinge side. This means that they are more difficult to enter if the smoke protection pressure feature is activated since the user has to overcome both the resistance of the door closer and the counter-pressure. In this situation, the focus is on the opening process if the smoke protection pressure system activates. If barrier-free access needs to be ensured both when the system is active and when it is not, then a drive unit such as the Powerturn F must be used on such doors.
Fire protection doors from the RDA staircase
For fire protection doors leading out of a staircase, the higher pressure is on the opposite hinge side. This does make them easier to open if the smoke protection pressure system is active, but the door must also close securely against the pressure. Because of this, the differential10 pressure must be taken into consideration and the closing force of the door closer must be adjusted accordingly. GEZE also offers assistance for this application with the TS 5000 SoftClose. With this device, the last 15 degrees of the opening angle are controlled using a separate valve, so that the door leaf can be accelerated using a latching action, or decelerated over the last few degrees of opening in a targeted fashion. This helps manage the pressure situation, and ensure the door closes safely.

An important consideration for wider doors and higher pressures is that the door closer must generate the stipulated closing force to close securely against the pressure. In everyday use, such doors are very difficult to operate and are not barrier-free.
Safe rescue routes with intelligent GEZE technology
The demands on safety and security components are almost as varied and individual as each specific building. Certain additional specific demands also need to be met. GEZE safety solutions are able to guarantee safe escape and rescue routes in any building. If the escape and rescue routes should not be open to everyone in normal operation, GEZE access control systems – which are connected to door control units – can take over the necessary monitoring. Whether at airports, in hospitals or at conference centres: the multifunctional products supplied by GEZE are like cog wheels which engage neatly into one another, producing an emergency exit system that not only provides optimal protection in an emergency and convenience during normal operation, but one that can be planned and installed reliably.
Good to know: The GEZE emergency exit system solution is approved and certified by an independent institution in accordance with the EltVTR (guidelines for electronic locking systems).
Emergency exit protection in the Vector headquarters in Stuttgart
The new company headquarters of Stuttgart-based IT specialists Vector Informatik is the largest building in the company complex so far. The company opted for safe escape and rescue routes with intelligent technology by GEZE. Learn more here!
Go to the Vector company headquarters in Stuttgart GEZE reference project
Individual solutions
Personal safety is the top priority when planning a building. Escape and rescue routes must therefore be considered from the outset. In addition to constructional demands, there are also legal regulations to comply with. Every building should have a tailor-made security concept with optimal emergency exit protection: fire and danger alarm systems, access control systems in combination with a door control unit and a door closer system, escape door locks or motor locks are just some of the possible variants. Planning the general design and layout of doors in a building at an early stage is important to prepare for subsequent adjustments and retro-fitting.
GEZE offers solutions for securing emergency exits that are tailored towards specific demands and individual escape route concepts. GEZE also has many years of international experience in providing consultancy in fire protection planning for all types of buildings and can support you as a project manager.
The most stringent safety standards combined with simple installation
The key challenge in emergency exit protection is how to optimally combine the contradictory demands of normal operation and emergencies. To create an escape route that doesn't simultaneously serve a getaway for thieves, for example, it must be locked to unauthorised persons. This is particularly relevant for department stores.
As a safety technology specialist, GEZE offers a wide range of products and optimal system solutions to guarantee unrestricted safety of the escape route in the event of a hazard. Customised solutions combine individual safety demands in one intelligent system so that emergency exits are opened and closed in a coordinated way in an emergency. All GEZE components can be simply and quickly integrated into an emergency exit system at any time. They meet the highest safety standards using state-of-the-art technology. The wide range of GEZE products and systems is also operator and user-friendly, durable and economical. A cross-product approach and the interaction between door, window and safety technology products mean that end users and fitters can rely on sophisticated and coordinated solutions.
Expert maintenance guarantees durability and perfect functioning
The operators of the buildings or rooms are responsible for keeping the escape routes well maintained, and for taking all necessary precautions to guarantee personal safety and protection of the building. To maintain the functional safety of doors in escape routes in compliance with standards, these doors need regular maintenance. The components in emergency exits must be maintained annually, either by the manufacturer or by one of his approved partners. As part of this, all of the safety and control devices of the door installation must be checked in accordance with the legal regulations. A monthly inspection by the operator is also recommended.
GEZE offers a full service from the planning of a building, installation and commissioning through to service during ongoing operation.
Downloads
You can find GEZE brochures on the topic of emergency exit protection available for download as a PDF here.